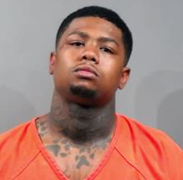 Wichita police are asking for help from the public in finding a man wanted for a fatal shooting at a sports complex.
Police are looking for 23-year-old Maurice Hall of Garland, Texas.  He is accused of firing shots during an argument on October 21st at the Stryker Sports Complex near 29th Street North and Greenwich Road.   The shooting resulted in the death of 31-year-old Marquell Nolan of Wichita.
Police said Nolan and Hall got into an argument on the west side of the stadium bleachers, and Hall is accused of pulling out a handgun and firing several times.  No one else was hurt.    Investigators said the two men knew each other, and the incident was not related to the youth football games being played at the stadium.
Evidence, tips to Crime Stoppers and information provided to police led to the identification of Hall as the suspect.
Anyone who knows where Hall is should call 911, and he should be considered armed and dangerous.   Information can also be provided to detectives at 268-4407 or Crime Stoppers at 267-2111.
[ photo of Maurice Hall provided by Wichita Police Department ]