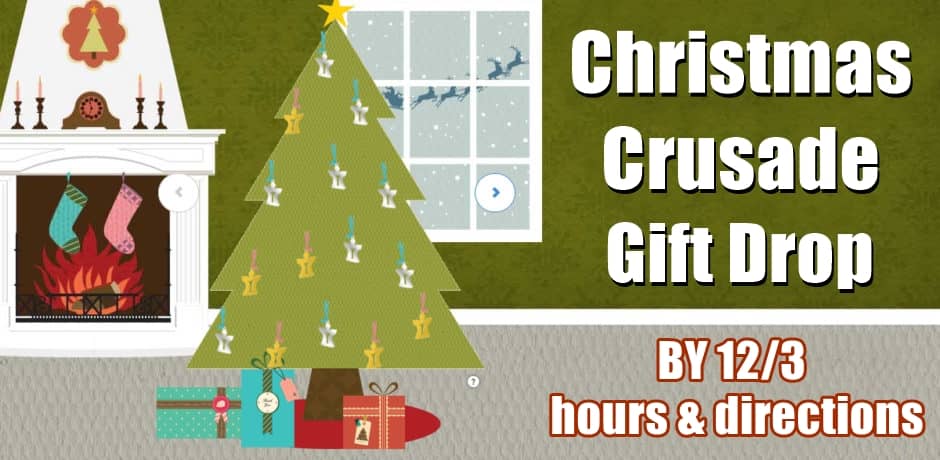 THE VIRTUAL ANGEL TREE IS EMPTY – THANK YOU
All children have sponsors.
It's easy to use the KFDI Christmas Crusade Virtual Angel Tree
1. Click the link above
2. Sign in or create a log in
3. Browse the angel tree tags on the tree and select the ones you'd like to support (none left)
4. Shop for your child(ren) 
Unwrapped gifts need to be returned to KFDI by 6pm on Thursday December 3rd
DROP OFF DAYS & TIMES
Monday – Friday 9am -6pm
Saturday 10am – 4pm
Drop off Wednesday 11/18 – Thurs 12/3
*not open Thursday 11/26 Thanksgiving OR Friday 11/27
SHIPPING If you'd like to ship directly to KFDI from Amazon or another online retailer PLEASE include gift notes with child's name, age, etc. so we can match up everything correctly.
Deadline for packages to arrive at KFDI is Thursday December 3. Guarantee that you'll make the deadline before you ship.
Shipping Address:
KFDI-FM Christmas Crusade
4200 N. Old Lawrence Rd.
Wichita, KS 67219
DIRECTIONS TO KFDI (there's road construction so consult these maps for the best route to us!)
Look for the Christmas Crusade Drop Off signs
Thank you to our program sponsor:
**For those of you who've participated in the past, the program is very similar this year. EXCEPT, due to Covid restrictions and safety precautions, we will not have a phone bank this year. All children will be adopted out using the above form or the virtual angel tree. Or you can email christmas@kfdi.com.