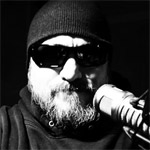 Mark Good
Sunday -- 10:00 AM - 02:00 PM
Monday -- 10:00 AM - 02:00 PM
Tuesday -- 10:00 AM - 02:00 PM
Wednesday -- 10:00 AM - 02:00 PM
Thursday -- 10:00 AM - 02:00 PM
Friday -- 10:00 AM - 02:00 PM
Saturday -- 10:00 AM - 02:00 PM
Hello to all the Fox listeners! My name is Mark Good and I was born in Topeka Kansas and have made my rounds in Nebraska and then found myself back in Kansas. Graduated from Goddard Senior High School and have lived most of my life here in Wichita Doo Dah!
Have been doing radio for about 18 years now in Wichita. I am a avid Classic Rocker who loves CCR,Zep,Eagles to name just a few! I also do a TV show called HeavyPork that has aired on Fox Kansas and other TV markets around the USA. It airs Saturday nights at 1am on Fox Kansas here locally. If ya cant stay up that late then you can DVR it! 🙂
On my time away from radio/tv I tend to go out into the desert and hunt reptiles and snakes with my children of 5 and 10 years old. I have done the reptile thing for about 22 years now! And I LOVE TO TRAVEL!!
Well there is a little about me. Now write me back and tell me a little about yourself! Thanks for listening to 104.5 The Fox!!
Email me mark@1045thefox.com